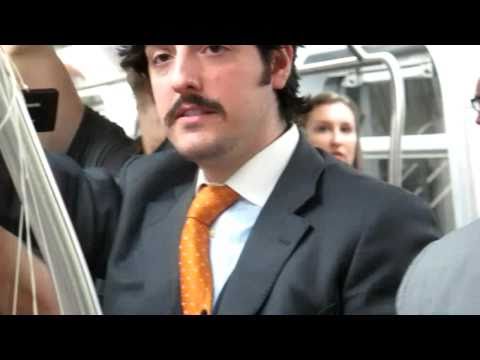 On the first of May we hosted a "luncheon" on the L line of the New York City subway. The subway is a familiar place, providing a necessary means of transportation for many New Yorkers. Its stairwells, turnstiles, platforms, trains and unpredictable elements are all-too-familiar to its dedicated patrons. One begins to know the exact time of travel from one destination to another. One begins to intuit the conditions of a ride, anticipating smooth stretches and knowing when to brace for a jarring turn. Through a series of familiar gestures, presented in commonplace locations in unfamiliar ways, we set out to challenge a habitual experience.
We wanted to serve a meal in a dynamic and strained location, to give ourselves a challenge that could only be overcome through teamwork and partnership. It is with great honor and pride that I say that this event born in the mind of Mr. Cigar in the back of a luxury car somewhere lost in the bowels of Los Angeles came alive when it was brought to team of creative and inspired people below. I am honored to have such good friends and compatriots that can take such ridiculous ideas and bring the into fruition no matter the adversity.
It is with that that I am honored to say thank you to everyone listed here below as this event could not have taken place without your energy, effort and support. No matter how big or small a roll you thought you played without you this would never have happened.
My sincerest thanks go to:
Daniel Castano – founder  – a razor, a shiny knife
Jonny Cigar – Winetology
Mike Lee – Studiofeast
Linda Lou – The Cheeky Chef
Andrew Rosenberg – a razor, a shiny knife
Ronen V – Pictures, Videos, Stories, Friends and Cool Projects
CK
Michelle Cortez
Zach McGeary
Kristen Hager – Snooth.com
Carissa Cirino – Tutus over French Fries
Dominic Musacchio – @dominicjohn
Alex Davidowski – Mirador Studios
Keith Haskel – Videographer
Steph Goralnick – Steph Goralnick Design and Photography
Emily Cavalier – Mouth of the Boarder
Drew Altdoerffer – Photography
Katie Hawthorne
Hannah Newbury
Cathy Erway – Not Eating Out in NY
Chad Griffith – Photography
Michael Opalensk
Simona Picco
Maurcio Vargas - The Blaaahg
Dan Vallejo
Alex Schulten
Andrew Warman
Alexis Ames – nineteen84 Design
Joe Levine – Studiofeast
Marissa Ain
Laura Huben- Studiofeast
Danielle Gould – Food + Tech Connect
Dave Christiansen – Pop-up Studio
Benjamin Lambert – Ben Lambert Chef
Ivana Kottasova
Derrick Yuen – Studiofeast
Soomin Baik – Studiofeast
Mihir Desai – Cross Species
Danny Zlobinsky
Joseph Yoon
Jana Philips
Nora Lidgus
Helena de Pereda
Katherine Wheelock
We will be releasing our photos and videos over the course of the next week so please stay tuned. We are committed and determined to push ahead, boats against the currents, providing unique and unforgettable experiences… And so we leave you to ponder what might be next…
Michael J Cirino
Founder – a razor, a shiny knife